As healthcare needs continue to surge, mobile medical applications are becoming increasingly popular, and for good reason. Traditional brick and mortar buildings are costly and limited in their reach, often only serving specific regions. On the other hand, mobile medical vehicles are flexible and can easily travel from town to town, ultimately serving rural and underserved areas more effectively. We believe that the mobile medical vehicle sector deserves more recognition given the rapid growth in demand over the past few years, and the delicate nature of the product they offer.
At PowerTech, we recognize the essential role that reliable power generators play for mobile medical vehicles. With impressive configuration options and generators ranging from 8 kW to 60 kW, we are proud to be a standout supplier for this specialized field.
In the early 90s, PowerTech made a splash in the mobile medical market with their generators made specifically for bloodmobiles. If you're a regular blood donor, it's likely you've encountered one of PowerTech's generators while contributing to a worthy cause. Today, the company provides bloodmobile manufacturers with a clean diesel generator that meets Tier 4 Final standards, removing outdated and ineffective units. What's more impressive is their new lightweight generator option that's gained popularity among customers looking to reduce overall bus weight. The PTG digital controller ensures that customers have complete control over their generators, which is essential in this industry. Perhaps the most notable factor of PowerTech's generators is that they operate quietly and efficiently, lending to a pleasant experience for all in this realm where reliable and consistent performance is vital.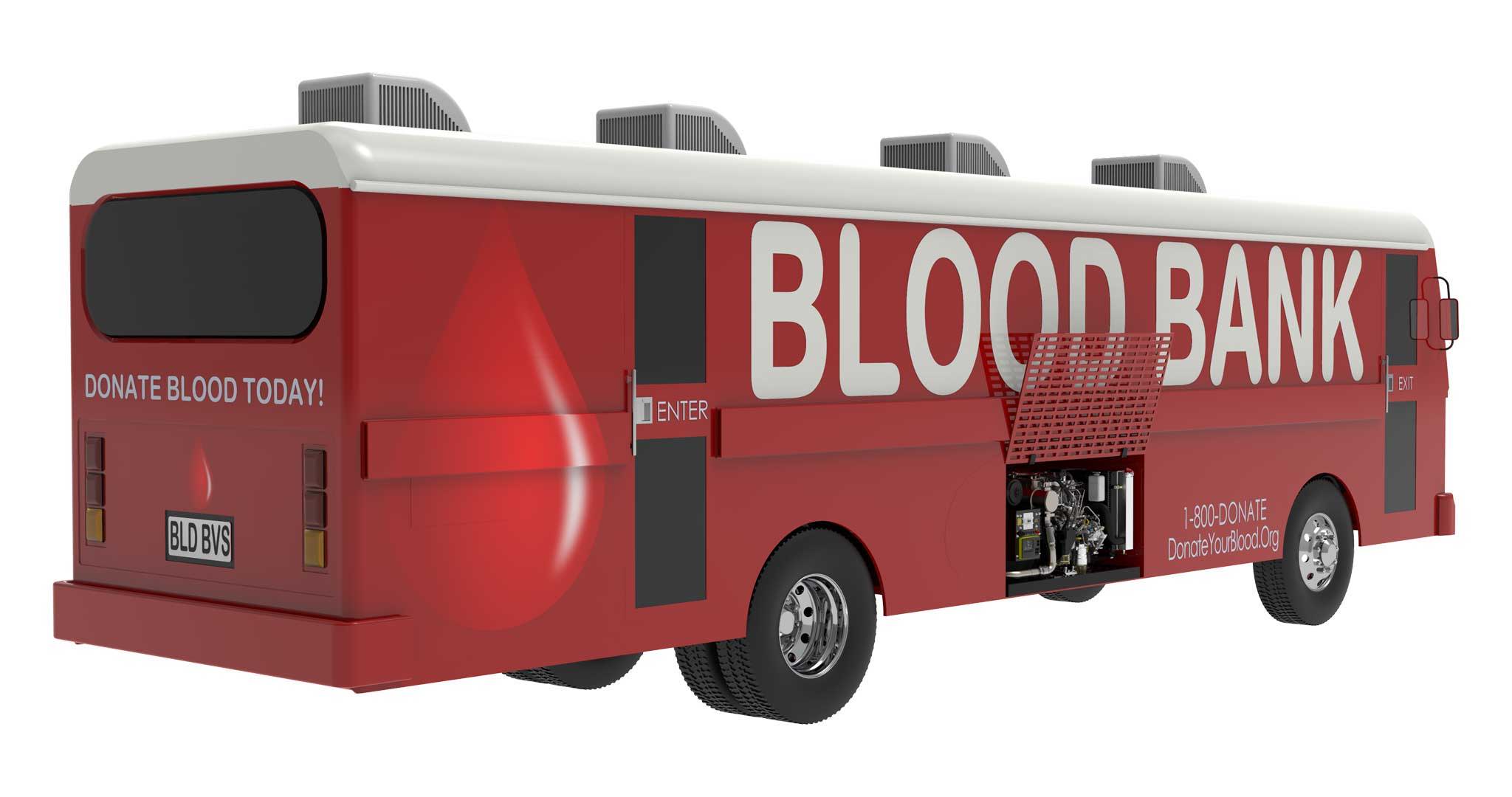 BLOOD MOBILE DIESEL GENERATOR
The PTI-20BML is specifically designed to be installed on a blood bus application. This compact and low profile open diesel generator is TIER 4 Final compliant and can easily replace an outdated generator with its custom base pan and blood bus specific exhaust routing.
SPECIFICATIONS
Prime Power Output: 20,000W
Engine:  Liquid-Cooled, 4 Cylinder Diesel
Certification: CARB and EPA Certified TIER 4
Injection Type: Direct Injection
Generator Type: Brush-less Generator with Automatic Voltage Regulator
Safety: Safety Shutdowns for High Temp and Low Oil Pressure
Output Voltage: 120VAC/240VAC
Amperage: 166A @ 120VAC (83A @ 240VAC)
Fuel Consumption:  2.2 GPH at Full Load and 1.2 GPH at Half Load
Weight:  1015 LBS
GENERATORS FOR MOBILE MEDICAL CLINICS
The mobile medical clinic industry is a vital part of providing medical care to both urban and rural areas. These innovative customized vehicles deliver specialized medical services where people work and live, ultimately saving time and money for the community. With the recent outbreak of COVID-19, the need for these vehicles has become even more important. That's where PowerTech comes in. As a provider of commercial-grade generators, we offer customized solutions to meet our customers' unique specifications, ensuring they have the power they need to keep their mobile medical clinics running smoothly. We also offer stock generators in both open and enclosed formats with speedy delivery times, making sure our customers have the resources they need when they need them. At PowerTech, we are dedicated to supporting the mobile medical clinic sector and contributing to the betterment of communities everywhere.
MOBILE MEDICAL IMAGING POWER
As the mobile medical imaging industry continues to grow, specialty vehicles requiring 3-phase power are becoming more and more common. However, obtaining this type of power from utility companies is often difficult, forcing operators to rely on generators. But not just any generator will do. Custom-built generators offer several advantages over standard models, including reduced installation time and zero impact on the unit's warranty. And when it comes to imaging, vibration is a major concern. Our advancements in vibration mounting have resulted in a 50% reduction in the amount of vibration transmitted to the chassis, ensuring pristine and distortion-free films.
Mobile dental clinics play a crucial role in delivering much-needed dental care to underserved communities, rural areas and emergency situations. To ensure the smooth functioning and efficiency of these clinics, it is essential to have a consistent and reliable power source. PowerTech Generators, with their customizable wattage range between 8,000 to 60,000 watts and fuel options of gas and diesel, provide the perfect solution for keeping essential equipment and tools operational throughout a dental procedure. By tailoring the generator to the specific needs of each mobile dental unit, the custom-built generators from PowerTech facilitate seamless, high-quality dental care regardless of location, effectively bridging the accessibility gap and reaching out to populations in dire need of dental services.