Mobile Medical applications are becoming more and more commonplace as the medical industry demands are on the rise. Brick and Mortar buildings are expensive and only serve a small regional area. Mobile medical vehicles and trailers are flexible and can easily be moved from town to town, serving rural and under-serviced areas more efficiently. Although mobile medical vehicles fall under the specialty vehicle category, we feel this sector requires more attention due to the sensitivity of the product and the explosion in demand over the last five years. Clean and reliable generators ranging from 8 kW to 60 kW with endless configuration options make PowerTech a leading supplier for mobile medical applications.
PowerTech began working within the mobile medical market in the early 1990s in the bloodmobile market. If you have donated blood on a mobile vehicle, you most likely encountered a PowerTech generator. PowerTech designed a generator specifically for that market to provide customers with a plug-and-play option for blood buses. Today, PowerTech provides bloodmobile manufacturers with a Tier 4 Final clean diesel generator engineered to replace old and outdated units. PowerTech has taken this model a step further with the new lightweight option for customers looking to reduce the overall weight of the bus. Current generators include the PTG digital controller for complete control of your generator. In this industry, relying on volunteer donors, low noise, and reliability are paramount for a pleasant experience. Keeping the blood cold and the customer comfortable means failure is not an option!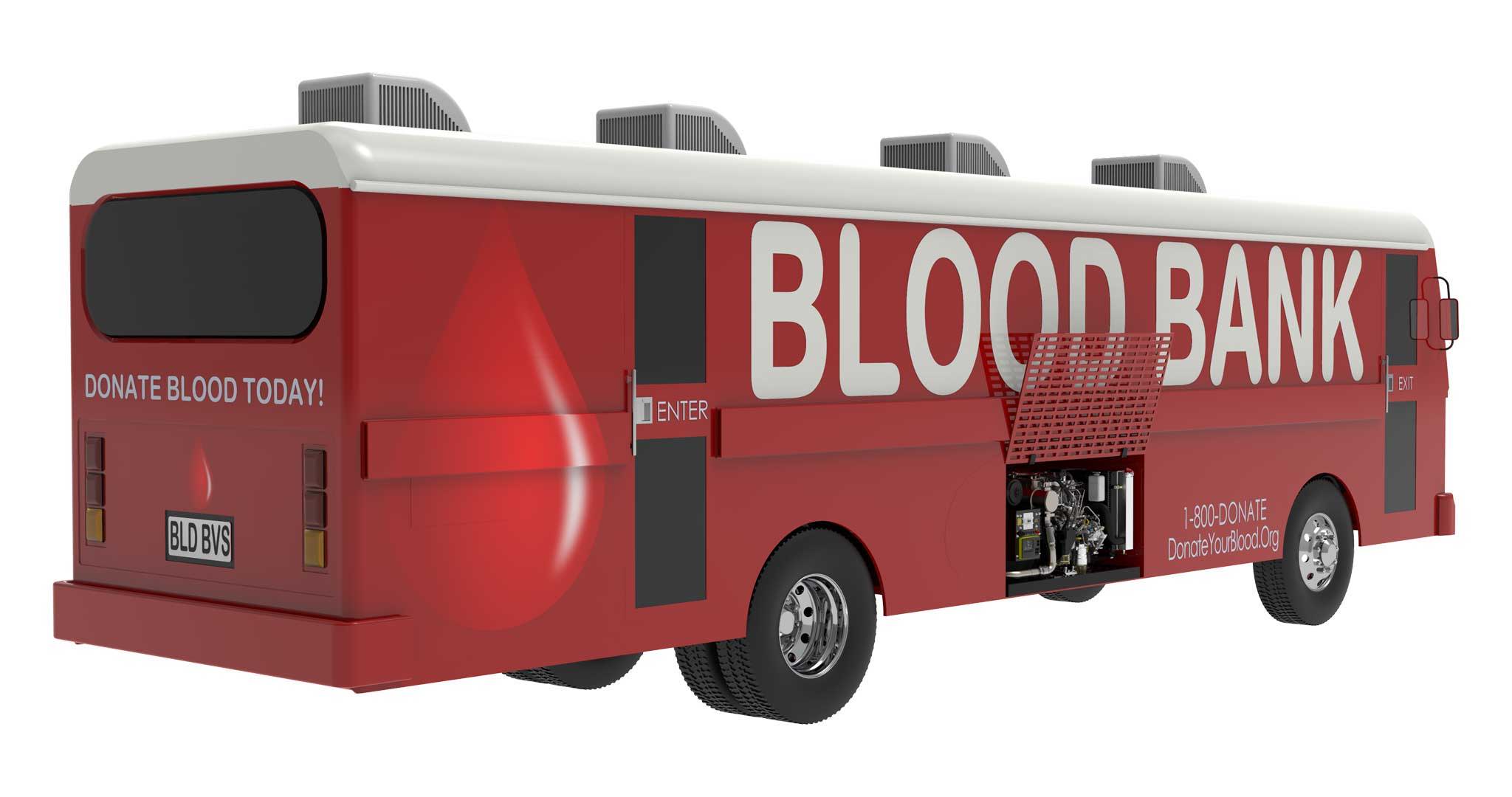 BLOOD MOBILE DIESEL GENERATOR
The PTI-20BML is specifically designed to be installed on a blood bus application. This compact and low profile open diesel generator is TIER 4 Final compliant and can easily replace an outdated generator with its custom base pan and blood bus specific exhaust routing.
SPECIFICATIONS
Prime Power Output: 20,000W
Engine:  Liquid-Cooled, 4 Cylinder Diesel
Certification: CARB and EPA Certified TIER 4
Injection Type: Direct Injection
Generator Type: Brush-less Generator with Automatic Voltage Regulator
Safety: Safety Shutdowns for High Temp and Low Oil Pressure
Output Voltage: 120VAC/240VAC
Amperage: 166A @ 120VAC (83A @ 240VAC)
Fuel Consumption:  2.2 GPH at Full Load and 1.2 GPH at Half Load
Weight:  1015 LBS
Mobile medical clinics are customized vehicles customized to provide medical care to both urban and rural locations. Mobile medical vehicles help provide medical services where people work and live. Supplying these services saves the community time and money by providing specialized medical services tailored to the community. Today, this specialty vehicle sector is more important than ever due to the latest outbreak of COVID-19 (Corona Virus). PowerTech's capacity to provide commercial-grade generators customized to our customer's specifications is crucial within the mobile medical clinic market. PowerTech also provides stock generators within the open and enclosed formats with short lead times and high on-time deliveries. PowerTech's close involvement within the industry offers builders a unique experience focused on solution-driven sales.
Cancer affects everyone, regardless of age, race, or creed. So, it should come as no surprise that mobile medical imaging vehicles and trailers are rising. These specialty vehicles often require 3 phase power which is hard to come by from utility power. With that said, this means they need the generator running every time, all the time. PowerTech's commercial-grade generators are assembled with the very best in components. Generators built to specification give our customers many advantages over standard-built generators. Two substantial benefits are no alterations, which reduces installation time, and the generator warranty is not compromised by altering the unit. PowerTech's experience within this market gives our clients an engineered solution to their mobile power needs. In this industry, low vibration is a must to prevent distortion on the films. PowerTech's advances in vibration mounting have resulted in a 50% decrease in vibration transmitted to the chassis.
Few things are as crucial to your overall health as dental hygiene. In areas where a large portion of the population are transportation disadvantaged, getting adequate dental care can be challenging. PowerTech is proud to be operating in multiple dental clinics around the United States that provide care to the less fortunate and customers with difficulties traveling to receive care.
WITH AN EVER-EXPANDING MARKET
The mobile medical industry is showing no signs of slowing down. PowerTech's ability to create generators that meet and exceed the demands of our clients provides a substantial track record of supplying customers with solutions within the mobile medical market.