What is the difference between commercial generators as opposed to standard/residential generators? Does it make a difference in performance or the longevity of the generator? These are all great questions that our sales team receives from customers, so let us break it down.
---
Power Tech's commercial grade generators are "Continuous Prime Rated." These generators are used in applications where supplying power is at a constant 100% load for an unlimited number of hours. Alternatively, standard/recreational generators are rated at a "Limited Running Time." This rating provides the user with a peak kW rating for a short amount of time. The actual run rate average is 70-80% of the peak rating.
Power Tech's diesel generator engines are set up at a consistent 1,800 RPMs. This setting keeps your engine at a relatively low engine speed for long engine life. Commercial grade generator engines are more substantial and liquid-cooled. Power Tech uses high ambient radiators. Upgraded radiators can dissipate high ambient temperatures much better than your standard residential generator radiators.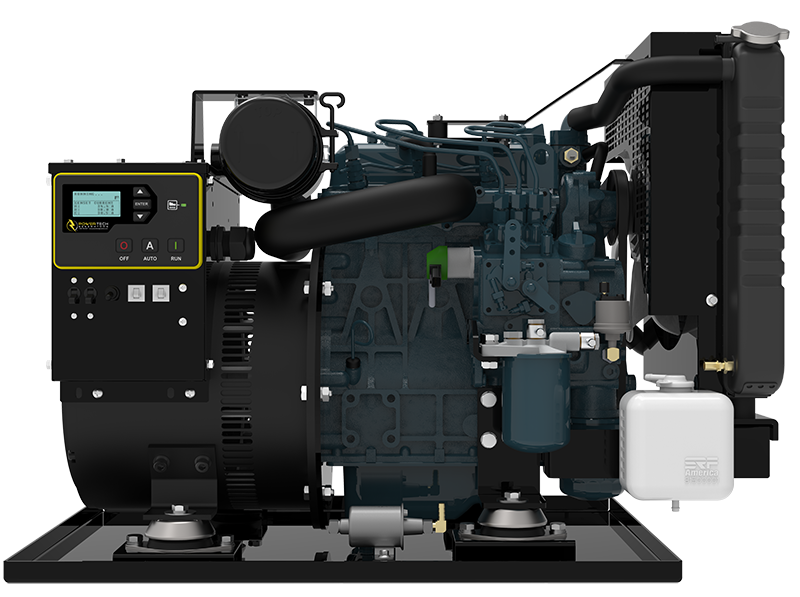 PT-8000 Open Diesel Generator
ABOUT THE PT-8000 OPEN GENERATOR
This versatile generator is powered by an industrial diesel engine producing 8 kilowatts of continuous prime power. The PT-8000 is the most basic generator on the Power Tech product line. With that said, it also makes the PT-8000 the most customizable generator as well. The lightweight frame and simple operations are an ideal generator solution for specialty vehicles, mobile medical vehicles, and other mobile applications. This commercial model generator is available from 8 kW to 40 kW.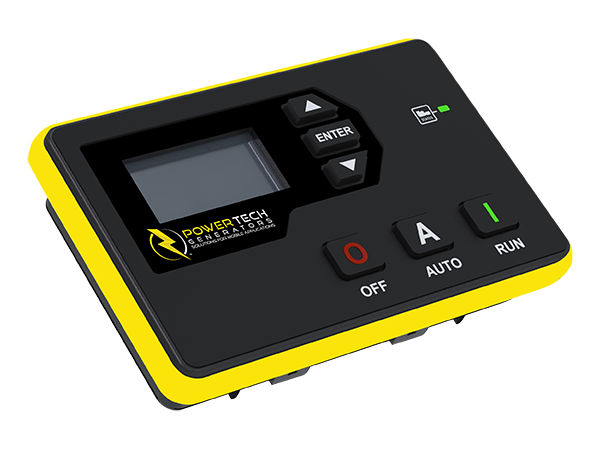 Advanced PTG Series Electronic Controller
Power Tech uses its' Advanced PTG Series Electronic Controller on our gas and diesel generators. Telemetry and remote monitoring are some examples of the powerful features that stand out above recreational generator controllers. Another great advantage to commercial generators is their durability and robust electronics. Industrial grade components can handle higher ambient heat during extended run times. The PTG controllers are also sealed and mounted to the application and are weather resistant.
---
One of the most significant advantages to a Power Tech commercial grade generator is our ability to customize the generator to the user specification (see our blogs on case studies). Customization can be many things like left side service, remote radiators, custom size, reduced weight, and 3 phase options. Most of the Power Tech line up has open and enclosed options. The Power Tech Si models are quiet and weather resistant with a thick gauge powder-coated enclosure. All enclosed models include a sound dampening insulation for added sound attenuation. Our open units are lightweight, highly customizable, and cost less than enclosed generators.  
WHAT TO KNOW WHEN IT COMES TO WARRANTY
When it comes to warranty, make sure you check the fine print. Many recreational and residential generators are not covered under warranty for commercial use. Power Tech's warranty covers our generators for two years or 3,000 hours for commercial applications.
Our experienced sales team can provide the necessary guidance with engineered specifications and options available for your mobile application. For a quote and lead time on a custom commercial grade generator, please contact us.