Why would you not invest in a commercial-grade generator if your business depends on your generator to keep your supplies refrigerated? Many food truck owners don't think about their generator until it isn't working. Downtime and repairs can be costly for food truck owners due to lost opportunities for special events, or it might be the only truck in your fleet. PowerTech's low-maintenance generators run at a constant 1800 RPMs. Maintaining low RPMs throughout the life of the generator prevents variable speed stress and promotes good engine health.  

THERE ARE MANY OPTIONS WHEN PURCHASING A GENERATOR
The first option to consider is your fuel source. Most food truck owners want to consolidate their fuel sources to as little as possible. If you are operating a diesel food truck, you would like to purchase a diesel generator pulling from the same fuel supply. It cuts down on tracking inventory on another fuel supply and reduces the overall weight of the food truck.
15 KW ENCLOSED QUIET GENERATOR
The PTI-15SI quiet enclosed diesel generator combines commercial grade components and engineered sound isolating paneling for optimum sound control. This 15 kW generator is Tier 4 Final compliant and meets all current emissions regulations. The PTI-15SI is a popular model among food truck, specialty vehicle, and mobile medical manufacturers.
SPECIFICATIONS
Prime Power Output: 15,000W
Liquid-Cooled, 4 Cylinder, Diesel Direct Injection Type
Available in 60Hz or 50Hz
Available in 3 Phase
Power Tech's Advanced PTG Series Electronic Controller
Brush-less Generator with Automatic Voltage Regulator
Safety Shutdowns for High Temp and Low Oil Pressure
Output Voltage: 120VAC/240VAC
Amperage: 125A @120VAC (62.5A @ 240VAC)
Fuel Consumption: 2.2 GPH at Full Load and 1.2 GPH at Half Load
Weight: 975 lbs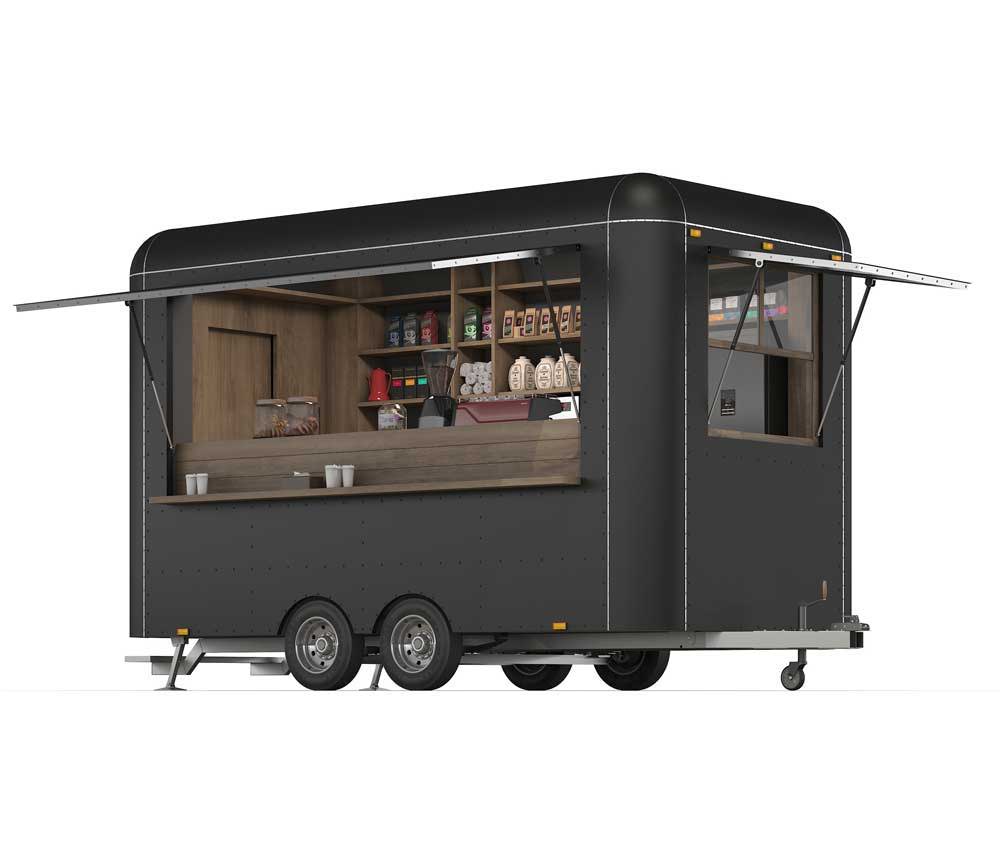 Another option to consider when purchasing a generator for your food truck is the size of the generator. It's always a good idea to check with our experienced sales team to help calculate the draw of your electrical devices within your food truck. You would not want to under calculate or over calculate your overall power draw. A common error is to oversize your generator's kW size. When your generator is too big for your food truck, it will cause your diesel engine to wet stack. Wet stacking is a condition in diesel engines in which unburned fuel passes on into the exhaust system. Wet stacking can cause your generator to become unreliable or even fail to operate.  
How quiet are your generators? According to our sales team, this is the question they hear most. There are many factors to dampening the sound of a generator. Baffled airflow, sound foam, weather-resistant enclosures, and vibration mount control are a few factors to consider when constructing a generator for low noise. When choosing a generator that is right for your food truck, consider the available room for your generator compartment. Do you need an enclosure, or will an open power generator be the best option? With more sound isolation, the sacrifice is more weight, cost, and size. These are all things to consider when purchasing or designing a generator for your food truck.
If you don't see a generator that works for your food truck, consider working with our sales team to create a generator specifically to your needs. Visit our case studies to see how custom generators engineered to your specification could save you time and money.